Beginner Pilates System
January 26 (Saturday) at 8:30 am
4 spots left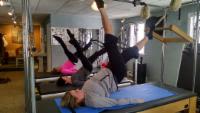 A 5 week 10 class workshop, this class is designed for beginner Pilates students to learn the ABC's of Joseph Pilates work. All aspects of the Pilates system will be addressed using the reformer, tower equipment and floor work. Focus is on releasing tension in the body, proper posture and activating deep core muscles with breath control. Pilates technique will decompress the joints, open the spine and strengthen and stretch you to the core.
To book a spot in this class you must sign-in. If you do not have an active pass you will be prompted to purchase one first before making a class reservation.
You must sign-in to book a spot in this class.
Sign In
Create Account